Description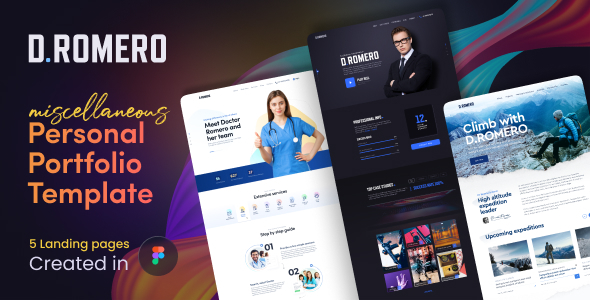 D.Romero | Personal 5 Exclusive Portfolio Landing Figma UI Template
D.Romero is a great set of personal portfolio landing pages' design – allows users to use and modify as per their need, with minimum image and text edit can help to recreate accordingly using any one of the 5 high-quality landing pages. All the creatives are created in such a way that users will find it very easy to iterate as required.
For whom: 
For users who want to create a personal portfolio accordingly.
Technical Description:
All the designs are made with precise details. With components and assets, you can design your own screen easily and effectively. All the text is editable and is levelled with H1, H2, etc to understand and recreate any of the design. It's very straightforward to change the colours or size of any component or layer and make this Kit an asset for a variety of projects. This Template is created using Figma application.
Software:
Figma Template. You need to have basic knowledge about the mentioned application to edit this file.
Note, Special Mention:
All the images are displayed only, not included in the main download package. But I must want to give credit to the authors for their wonderful images.
Image Courtesy
Unsplash: https://unsplash.com/
freepik: https://www.freepik.com/
Pexel: https://www.pexels.com/
Special Graphics Made by us:
As per ThemeForest guidelines we can not include images in the final package. But we can provide custom graphics services. For more details do contact us: http://support.0effortthemes.com/
Specifications:
Softwares : Figma
Easy to understand layouts
Well organized guides
5 Premium high quality home/landing page to enhance your design
100% Scalable Vectors
Symbol & Layer organized.
Easy Customisable Figma file
Free fonts
Full beautiful SVG icon Pack
Well-documented Help file
Includes: 5 landing pages on personal portfolio
Lawyer
Doctor
Mountaineer
Mentor
Chef
Used Fonts
Refrigerator Deluxe : https://www.dafontfree.io/refrigerator-deluxe-font-family/
Cera Pro : https://www.downloadfonts.io/cera-pro-font-family-free/
Authentic : https://www.dafont.com/authentic-signature.font
Julietta Messie : https://www.dafont.com/julietta-messie.font
Sofia Pro : https://www.cdnfonts.com/sofia-pro.font
Images Courtesy:
Freepik : https://www.freepik.com/
Unplash : https://unsplash.com/
Pexels : https://pexels.com/
To get more information or technical support kindly reach us.