Description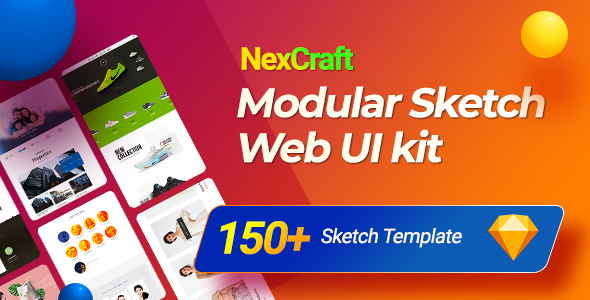 NexCraft | Modular Sketch Template and Web UI Kit
NexCraft:
This is quite a different Sketch template. its a combination of template and UI elements package. We called it Modular Sketch template. Where a user has around 150 types designs of 14 various categories like Header, Hero image, About us, Services, Portfolio etc. User can easily choose any of the designs and make their own design. They can design with more than 10k possibilities.
To use this package effortlessly we have included a helpful document and a video tutorial.
Also, we are offering 4 exclusive landing page template, which made of these elements.
The modular means, with different module or object you can make a new product. Nexcraft works exactly the same.
With 14 categories, more than 100 design and more than 500 UI elements you have 1000K possibilities to make new website design every-time.
NexCraft comes with all the possibilities of various business and categories.
Also, we are giving you 4 exclusive theme templates which are made with this kit.
This UI kit is exclusively made for designers, Developer who works with various clients across the globe daily. It is fluid and easy-to-use, with a bootstrap grid system. It is carefully designed with these use cases in mind to give you a head start and a strong foundation in your Projects. All components are Practical, easy to use and re-configure. All Components are designed with practical use-case in mind, so it's easy to change the entire Kit to match your brand colours and styles.
How it works:
So each folder or category have more than 9 design files with different business. You can take Header 1, Banner or hero image 3, About us 4, Service 9, Portfolio 6, Testimonials 7 and Footer 3. By using these you can a new design according to your requirement. See the example.
The NexCraft folder have the following sub folders:
1. About Us_10 Style
2. Banner_9 Style
3. Clients_10 Style
4. Contact Us_10 Style
5. Footer_10 Style
6. Gallery_10 Style
7. Header Navigation_15 Style
8. Portfolio_10 Style
9. Pricing Table_5 Style
10. Services_10 Style
11. Shop_10 Style
12. Subscribe_5 Style
13. Team_11 Style
14. Testimonial_10 Style
Design And Crafting:
Every design in NexCraft are made with love and precisions and used the latest tools and technics to you a hassle-free experience while using the design.
Every fonts, shapes and graphics are editable so that it gives you 100% satisfaction.
This template is completely made with Sketch app. We have made this template in the easiest way so that the user has a clear idea to edit this template.
Features:
More than 150 Exclusive creative sketch layouts
14 Categories
More than 15 Business
1170px Bootstrap grid layout
Vector icon and objects used.
100% responsive des
ign
Graphics are included in the package
Free font, icon and graphics used
Including's
HOME PAGE OR LANDING PAGE: 04 Themes
ABOUT US: 10 Designs
BANNER: 10 Designs
CLIENTS: 10 Designs
CONTACT US: 10 Designs
FOOTER: 10 Designs
GALLERY: 10 Designs
PORTFOLIO: 10 Designs
SERVICES: 10 Designs
SHOP: 10 Designs
TESTIMONIAL: 10 Designs
HEADER NAVIGATIONS: 15 Designs
TEAM: 11 Designs
PRICING TABLE: 05 Designs
SUBSCRIBE TABLE: 05 Designs
Image courtesy:
All the images display only, not included in the main download package. But I just want to give credit to the authors for their wonderful images. The image credit links are mentioned in the documentation page. All the images used in the template are demo only and not included in the package. But you can download all the images from the below links.
Pixabay: https://pixabay.com/
Unsplash: https://unsplash.com/
Freepik: https://www.freepik.com/