Description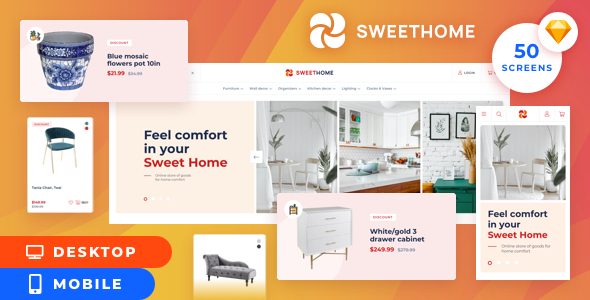 Sweethome is unique eCommerce Sketch Template. In one package you'll get two versions of the template – desktop and mobile version. This is really profitably!
Sweethome is clean, minimalist and modern template. The theme is suitable for any kind of shops like cloth, furniture, accessories, flowers or any other.
Our package includes 2 sketch files – separately desktop and mobile versions and with this template you can convert it into WordPress or Magento, Shopify, or other systems sites.
If you like our template, please rate it 5 stars.
Template Features
Desktop version 1920 px – 24 sketch artboards
Mobile version 375 px – 26 sketch artboards
Modern and clean design
Easy & customizable by styles and symbols
Pixel perfect
Free Google Font used
Free Font Based Icons
Well organized layers
Desktop Files (24 artboards)
01_main_page
02_main_search action
03_main_menu_dropdown
04_catalog
05_catalog with filters
06_catalog_search_results
07_results_empty
08_product page_description
09_product page_details
10_product page_reviews
11_subcategoriesl
12_cart
13_checkout
14_order success
15_about us
16_contacts
17_Login
18_Registration
19_profile_info
20_profile_info_ empty
21_profile_info_edit
22_profile_change password
23_profile_wishlist
24_profile_orders
Mobile Files (26 artboards)
01_main
02_search active
03_main_menu
04_main_menu_opened
05_catalog
06_catalog_filters_opened
07_catalog with filters
08_catalog_search results
09_results_empty
10_prod_page_description
11_prod_page_details
12_prod_page_reviews
13_subcategories
14_cart
15_checkout
16_order success
17_about us
18_contacts
19_login
20_register
21_profile_info_full
22_profile_info_empty
23_profile_info_edit
24_profile_info_edit
25_profile_wishlist
26_profile_wishlist
Font Used